"Denmark has a lot to offer; embrace it with a full heart and she will embrace you back." These are Canadian expat Eve's words for those new to Denmark and for those contemplating a move there. Here she shares her career plans, some aspects of her expat life in Copenhagen, and what for her are the ups and downs of living and working in Denmark.

Eve Recinella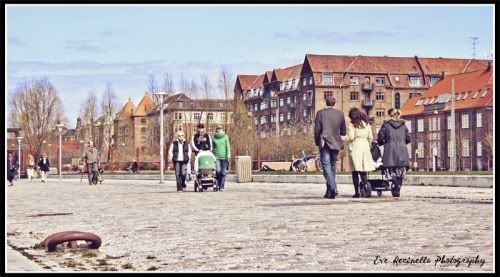 -Where were you born?

Windsor, Ontario, Canada.
-In which country and city are you living now?

Copenhagen, Denmark.
-Are you living alone or with your family?

With my husband of 11 years and two children.
-How long have you been living in Denmark?

It will be 11 years come May 2009.
-What is your age?

I am 36 years old.
-When did you come up with the idea of living in Denmark?

I met my husband in 1997 and we fell in love. We both decided that it would work best if I moved here to Denmark and since I love experiencing new things, I packed my suitcases and the rest as they say, is history!
-Was it hard to get a visa or a work permit?

Not at all, since I was married to a permanent resident I received mine right away. A lot has changed though in the past 11 years and they have tightened the rules. I believe it is a bit more difficult now.
-Was it difficult for you to get medical insurance before you went there or when you first arrived?

No, Denmark has National health care so everyone who is a resident is covered.
-How do you make your living in Denmark? Do you have any type of income generated?

Right now I am a SAHM, but hope to get back into my graphic design business once my youngest is in school.
-Do you speak Danish and do you think it's important to speak the local language? Please add your thoughts on local customs and whether it's important for expats to respect/observe local customs.
I can speak, read and understand spoken Danish fairly well. I took a two year Danish language course when I first moved here and that helped a lot. I do think it is important to learn the language, that said, most Danes do speak English and are very understanding when you are just learning their language.
The biggest difference custom wise for me is that the Danes celebrate Christmas on the 24th. Growing up in Canada we always celebrated in on the morning of the 25th. We have decided to make this custom our own and we have a combined Christmas holiday with the Danish Julemand (Father Christmas) coming with the stocking on the 24th and Santa coming while the kids sleep and leaving presents for the morning of the 25th.
-Do you miss home and family sometimes? Describe your favorite recreational activities there or those that are available.
I do miss them, I haven't been back to Canada in 10 years, but we communicate through email, phone calls, Facebook.
I live near downtown Copenhagen, so there is always something going on. We love to take walks, swim in the sea, go to street fairs, shop, enjoy a picnic in the park. The Danes love their bikes, so there is a lot of great places for taking bike rides.
-Do you have other plans for the future?

Once my youngest is in school I hope to get back into my freelance graphic design business. We would also like to travel more and spend some time in London and Paris.
-What about housing, have you bought, or are you renting a home? How much do you pay for it?

We have an andelsbolig, which is similar to a condo set up I believe. We have a four room apartment, which basically means three bedrooms, a living/dining room, kitchen and bathroom. It is 91 square meters and we pay 4,200 kr a month (around 900 Can dollars). Our rent is actually on the lower end of what you will pay. The price of apartments has skyrocketed over the past 11 years, depending of course on the area. Closer to downtown the higher the rent.
-What is the cost of living in Denmark?

The cost of living is very high here. I believe Copenhagen is one of the top most expensive places to live in the world.
-What do you think about the Danes?

I find most Danes to be distant when you first meet them, but get to know them and they open up and are friendly.
-What are the positive and negative aspects of living in Denmark?

The country is beautiful and steeped in history. It's a very "family friendly" country with work hours being set so families can spend the evenings together. Woman and men can both have maternity leave. People walk and ride bikes a lot, so there are a lot of wonderful parks and outdoor activities. There is Nationalized health care for all, Dental coverage until you are 18, free higher education, low crime rate. Life passes at a slower pace here it seems, especially during the summer.
The negative aspects, during the winter it can be hard. It is dark and cold and there isn't a lot of light. It can be hard to make friends.
-Do you have any tips for our readers about living in Denmark?

Learn all you can about the country before you arrive. Take the time to learn the language and seek out other expats and hear their advice. Denmark has a lot to offer, embrace it with a full heart and she will embrace you back.
-Do you have any favorite Web sites or blogs about Denmark?
All About Me And A Bag Of Chips - This is my own personal blog where I blog about just about anything from family, food, films, crafts, etc.

Copenhagen Post - Danish news in English.

All Canuck - A Canadian expat group that meets up for different events.

Visit Denmark - Official travel guide to Denmark.